It is possible to simplify the login process for early years pupils even further by allowing them to bypass either entering their username or identifying themselves via the whoami.uso.im method described here.
This simple option involves the use of a type of barcode known as a QR code which can have a pupil's information embedded in it.
These barcodes can be printed onto Avery labels (the support site will generate the correct format automatically) and handed out to pupils to stick onto their notebooks.
Then, provided you have the appropriate technology, such as a LearnPad, another type of mobile device or a camera and a pc, running a suitable app, the child can then scan the barcode and arrive at a login page which already has the username field completed for them. The child then only needs to enter their PIN code.
QR codes can be viewed and downloaded from this page: https://support.lgfl.org.uk/secure/user/early_years.aspx
Each pupil will have a link to their own unique QR barcode next to their name.
If you click on a single one, you will be able to view and print a single barcode.
If you wish to print a set of barcodes for the entire class, use the link at the bottom of the class list.
You will get a PDF with each code in the correct position for printing. This is preconfigured to print on sheets of Avery (L7162) labels.
You can then distribute each label to the appropriate pupil.
These labels can be scanned by an appropriate device with a camera and will land the child on the Early Years login page where their username will be pre-filled in the box.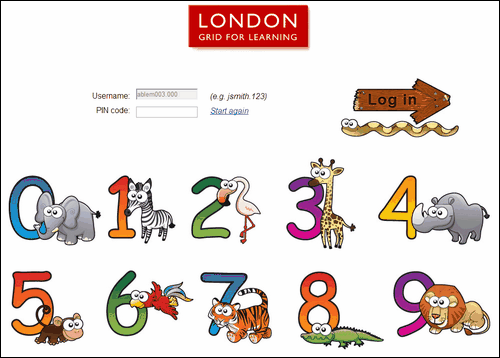 See also: