To assist younger pupils to make use of USO-enabled services, an Early Years login option is now available.
The Early Years login works in several ways to simplify the login process for the myUSO website for pupils in Year 6 and below.
Assistance on using this feature is available via the Atomwide Help Desk.
Enabling Early Years logins
In order for this functionality to work, your school must be exporting the relevant data sets using the USO-AutoUpdate exporter. Please see the setup instructions for full details.
To make use of and enable this option, your school's Headteacher will need to sign an online declaration confirming their desire to use this functionality and accepting the security implications.
The declaration will be found at the following location: https://support.lgfl.org.uk/secure/myacc/ht/declarations.aspx. This link is accessible to Head Teachers to be able to provide their agreement and to Nominated Contacts in a 'read only' state to be able to review the terms. The Headteacher will need to approve the Enable USO Early Years simplified logins declaration.
For those not able to access this page, the declaration text is provided in the image below:
Logging in with a username
Once enabled, each pupil in the school will be able to log in using their USO username and a PIN code instead of their password. (They can always choose to log in with their password instead of a PIN as both options will exist.)
Their default PIN will be a 4-digit number derived from their date of birth in DDMM format. This can be reset to another PIN code (between 4 and 10 digits in length) by a teacher or Nominated Contact when necessary. Details are found here.
Pupils who are able to remember and enter their USO username can access the website by going to http://easy.uso.im.
Pupils will be presented with a child-friendly login page where they will need to enter their username by typing it into the box. They will then need to enter their PIN code, either by entering it into the box or by clicking on the images associated with the relevant numbers.
Once the pupil enters the correct details, they will be logged in to the myUSO website where tabs configured by their teachers will be visible to them.
Links to USO-authenticated learning resources (with the exception of LondonMail) will not require an additional login as the pupils will get logged in to each one automatically from myUSO.
Pupils also have the option to create personal links if they are able to make use of the functionality.
Logging in without knowing the username
Important information
Please note: the option to log in via the recognition method described in the section below is available only to schools exporting data from their MIS via the USO-AutoUpdate exporter with additional data fields enabled. Please see the enabling data exports information below.
This type of login will work when inside the school only and NOT from home or another non-school location. Anyone trying to access this service from any location other than their school will see the page illustrated below as the user identification service is limited to school networks for security.
However, the myUSO website and the Early Years login page are always available from any location.
The links provided at the bottom of the page illustrated above will allow you to easily reach either location if you are able to log in with a valid USO account.
To activate the Early Years login feature for your school, the Head Teacher needs to sign the relevant declaration as described in the section titled Enabling Early Years logins at the top of this page.
Using the 'Who Am I?' user recognition service
For pupils not yet able to remember and enter their USO username, a very simple method of logging in exists.
Pupils in year 6 and below can use the URL http://whoami.uso.im to log in.
When they reach this page, they will be shown a list of the classes in their school.
To make this possible, it is important for the class-teacher relationship to be established within USO. For most schools, this can happen automatically by exporting additional data through USO-AutoUpdate.
It is essential that your school uses USO-AutoUpdate to export data and not a different product!
This can be checked by your school's Nominated Contact and enabled, if necessary, by the Headteacher.
The MIS used by the school must be either SIMS or Integris G2.
The following actions must be performed by a Nominated Contact:
Go to https://support.lgfl.org.uk/secure/user/au/au_settings.aspx
Check to see if USO-AutoUpdate is enabled. This will be indicated by a set of green buttons shown next to each report. The table on the left will also show the dates of recent exports.
If there are no green buttons on the page, this indicates that USO-AutoUpdate is not in use.
If AutoUpdate is already enabled, check to see if the following three reports are enabled (green) under the the heading Atomwide USO Export:
Atomwide Classes
Atomwide Student <>Class links
Atomwide Group Supervisors.
If each of these has a green button next to it, then there is nothing further you need to do.
If there is an empty box next to each one, then they need to be enabled and this can only be done by your Headteacher.
The Headteacher must also log in to the same page in the support site, tick the boxes of the 3 reports named above and click the Accept reports button, which appears at the bottom of the page and is visible only to Headteachers.
Detailed instructions can be found here.
If you do not see the three additional reports as options on the page then it is likely your MIS type is not compatible with these exports.
If no data is being exported then using the 'Who Am I?' service or linking classes and teachers will not be possible.
Class information can be presented either as a list of class names or by images representing the class.
The default option is for classes to be listed by class and teacher name as shown below.
Alternatively, a school may provide its own images to represent each class. In such cases, pupils will see a list of images or photos to which they can easily relate.
(To use your own images, a Nominated Contact at your school will need to raise a support case and upload a set of images, specifying which one belongs to which class.)
The pupil will need to click on his/her class name to proceed.
Once they have selected their class, they will need to specify their gender by clicking on one of the graphic options.
When they have selected their gender, they will be asked to click on the first letter of their first name.
After they select a letter, they will be a shown a list of names in their class beginning with that letter.
The pupil will need to click on their own name.
When they click on their name, they will be taken to the login page where their username will already be filled in.
They will now need to enter their PIN (as described in the section above) to enter the myUSO website.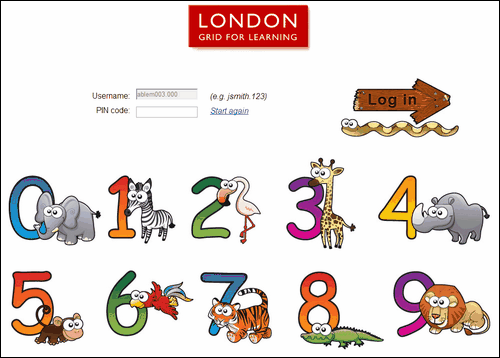 See also: